Planning and Preparedness
Readiness in CIM. The term readiness refers to a state of being prepared to handle unexpected crisis situations. When a crisis occurs, staying calm and making the right decisions can be demanding. In a short space of time, you must get an overview of the situation and take action.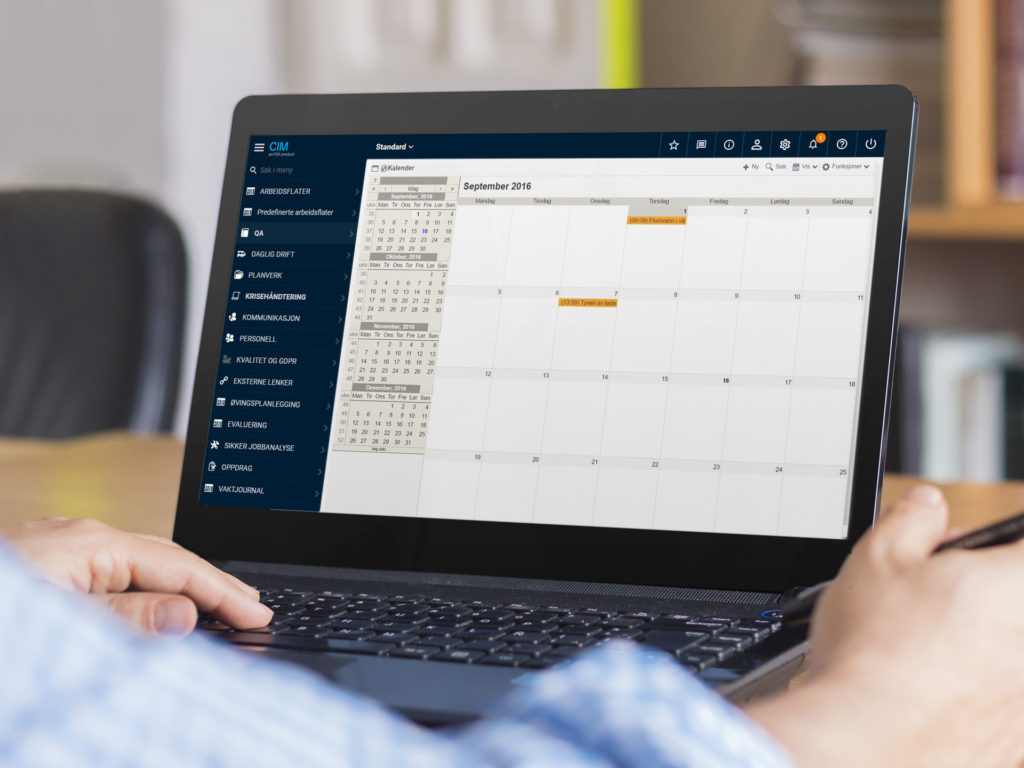 In extremely stressful situations few of us can fully consider and prioritize what to do, how, and why. You must prepare for this, and CIM can assist you in doing so.
What should you expect from a good readiness support tool?
Gives you access to your readiness plans, at any given time or place
Supports good routines and processes for reviewing your readiness plans
Helps you increase knowledge and awareness of readiness in your organisation
Provides backup solutions if your IT network fails
Supports processes related to planning, training,exercising, handling and evaluation of incidents
Saves time, increases confidence and quality levels through use of templates and checklists
CIM ensures a structured approach to plans, distribution lists and checklists, and helps you keep control of your readiness planning. You can update plans, checklists, and distribution lists continuously, in one system. Activities, training, and exercises are planned, logged, and evaluated in one place.
Plans
Having  clear plans is critical for when a crisis occurs, and key personnel need to be familiar with them. Users also need to be able to access plans and routines quickly and effortlessly, independent of local time and location.
Entering your plans and routines into CIM makes them much more accessible for the users and increases awareness. Revising the plans becomes easier, because lessons learned during an incident can be incorporated into the plans directly from CIM. Control over revisions is also made simple because CIM keeps track of versions and revision progress. The result is one single approved plan, located in one place, easily accessible.
Exercises and training
Making good plans and preparations based on actual risks enables you to train your organisation in handling incidents. Training creates confidence for both employees and your organisation.
Practice makes perfect, and CIM helps you plan, carry out and evaluate exercises. A separate exercise mode is available in CIM, to help you keep information logged during exercises and training away from real incidents.
Furthermore, you can document participation in exercises and employees' skills in a separate CIM module and therefore plan exercises and training based on the organisation's needs and skill requirements.
Templates and flexibility
We encourage use of templates and checklists in CIM – time is of the essence during a crisis. Based on your risks you will already know a few situations that can arise – when considering these situations, you can predict who needs to be alerted, which measures you need to take and who you must inform about what. Setting up templates and checklists for these situations saves a lot of time when a real incident occurs and gives confidence to the response teams.
Templates are a support tool – CIM  lets you move away from them if the incident develops in an unexpected direction. 
CIM provides
Access to plans and contacts independent of time and place
Increased knowledge and awareness about plans among users
Integrated map information that helps you make decisions during a crisis
Simplicity for users and the possibility to update your plans directly in CIM
Solutions for backup if your organisation's network fails
Support to your organisation's planning, implementing and evaluation of training and exercises
Unsurpassed support if a crisis occurs
Availability and security
F24 Nordics delivers systems that support national security issues in Norway, and we are subject to the Norwegian Security Act. We fulfil strict security and availability requirements, and maintain our own solutions, supported by a dedicated IT partner. We own, protect, and control all servers and infrastructure ourselves. CIM is run on protected computer centres on several geographical locations in Norway and UK. No information is stored in commercial cloud services. All communication between CIM and the user in encrypted.
We monitor more than 1000 CIM installations constantly, all year round, and our support line is ready to handle critical issues around the clock. We take geographically redundant backups of all data every day.
Do you have any questions regarding our products or services?